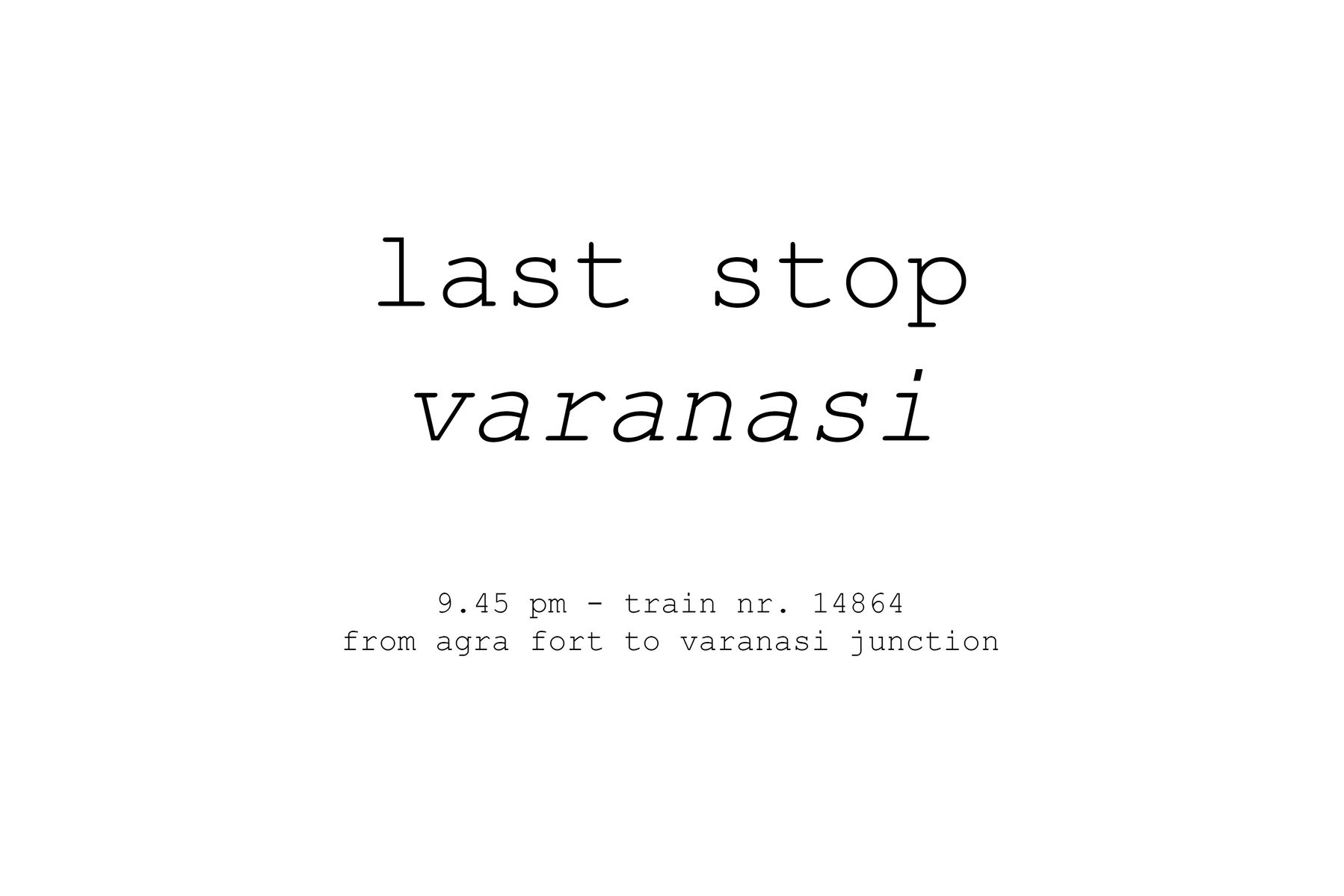 The booking didn't go well, our seats were swept up by god-knows-who and us two desperate souls found ourselves wandering aimlessly for hours inside the crowded station in agra not knowing exactly what or whom we were waiting for. You ask, but you don't receive, you ask again and get half an answer, you try again and maybe something happens, then a ticket inspector that you manage to befriend gets you two seats in two separate coaches in the infamous "sleepers" category with hard benches, without air-conditioning or heating surrounded by a slice of humanity which is so different that, in this place that is so foreign to us, it even seems dangerous. Splitting up is not a good idea, too risky, we share the same seat in the coach, "S6 - Seat 7", but we are not alone, there is another guy, we try to make him understand that that little foldaway seat is ours, but he doesn't give in, he motions to us to sit down, but there's no sign of giving up that seat. we set down our backpacks in a few square centimeters of space, on my right there is a camouflage bag, I don't understand whose it is and it bugs the hell out of me. But I don't say anything, it's better not to say anything when you're surrounded by too many eyes staring at you because you're so different. I'll stick with it bugging me.

The train moves slowly, we've left, godspeed, we can't turn back now. Someone smokes, someone coughs up a lung, others eat, a child cries non-stop, I get a little anxious, this place is claustrophobic, exactly how many of us are in here, dammit? a guy in a yellow shirt looks at me, he stares at me, he's been doing that for a while now. It's hot, I try to squash a cockroach, but I miss it, it slips in to who-knows-where, I hope it doesn't show up again in the middle of the night. The guy who is sharing our seat looks out the window, a couple across from us is lying on the ground, they seem like one body that attempts to take an unlikely selfie, useless; I offer to take one for them, they smile at me, accept, I shoot, they smile again, better this way, you never know.

The guy from before keeps staring at me, I look out the window and see his face looking right at me, I worry, once again I think about the train crash that happened the night before in which I don't know how many people died on a route that I had planned on taking, then gave up on because I didn't have time. the train was exactly like ours, it wasn't difficult to imagine the carnage, how many bodies over limit were rocked back and forth on the dirty walls of these coaches? My anxiety gets stronger, then finally a familiar face, it's he, the ticket inspector who got us the seats. he gets the other guy to move, he looks at him angrily and tells him the seat is ours, he sends him away. I feel observed, he promises that he will try to find two seats in the same car. We thank him and he goes away. We hope, we don't speak, Antonio and I, but I'm sure that we are thinking about the same thing: someone get us out of this fucking coach!
I try to make myself more comfortable, but it is hard since the guy left room for our backpacks. Someone asks me something, I think he's hinting at the tickets which we actually don't have, someone looks at us angrily, we are two foreigners who took the place of this piece of humanity. I try to relax, but there is still that friggin' camouflage bag beside me that's bugging me.

Two police officers pass by, they shoot us a dismayed look, they are also probably asking themselves what the heck are two pallid faces doing in here. One of the two asks for the ticket, but we only have a "general admission" which doesn't guarantee a seat and honestly we don't even know what it's for. He looks at us angrily, he makes us understand that with that ticket we won't get anywhere. We try to explain the story, we barely understand each other, they go away.

The train picks up speed, the clanking sounds, sharp gusts, it starts to get cold, someone snores like a banshee, someone else opens the door to the bathroom which is two meters from where we are, a putrid stench… and heinous if I think that we have to put up with it all night long. The guy who was staring at me before put his head on his knees and has fallen asleep under the sink.

The two policemen come back. one of the two, while picking up that camouflage bag that has been tormenting me, says to me, "siiit is mi" and stutters "ten tausaaand rupees". We pretend not to understand this attempt at extortion, we talk over each other without understanding. They go away, someone opens the door to the can. we try to get ourselves together, we put our jackets on, Antonio puts his head on his backpack and closes his eyes. I can't, I get my phone out and write notes, take some pictures secretly. The policemen come back, the one who didn't speak before made it understood that I am sitting in his seat and now he asks me for 5,000 rupees. I pretend not to understand, Antonio sleeps, I wake him up, we talk over each other again without understanding again, they laugh nervously a little and go away.
A deafening sound just before the blast of air from another train. a short time later and our train stops. I have a headache, dozens of poor creatures get on, marginal fragments of society excluded from the pace of this day and age. Many children, every one of them looks for a place to rest, one tries pushing down on the bench opposite me to test its stability, there's already someone on there sleeping, he thinks about it, he tries, he gives up, he lies on the ground a bit further on.

Once again the policemen, I pretend to sleep, one points the flashlight right in my face, I resist, I'm "sleeping". I've got my eyes almost closed, just enough to see his khaki-coloured trousers and his half-shone service shoes, the flashlight on his side. I see that they are arguing with someone, I try to focus to understand better, shit, they're arguing with our friend, they point to us, gesticulate, I'm tempted to get up and blow everything, but I think twice about it and continue to "sleep". They leave together, climbing over bodies, I'd like to stop our friend and ask him for two seats in a decent coach, but I'd better not. it's 1:58 a.m., we are scheduled to arrive in Varanasi at 10:30 a.m., the night is still young on this train.